Old Motherboard's Tranquillity Haven's
Weekly Events Calendar
To enhance your visit to Tranquillity Haven, these value-added activities are offered for the enjoyment of guests, although usual restrictions apply, particularly after dusk.

Please assemble on the old cricket square, which Old Motherboard now feels is quite safe as it has been almost completely cleared of bear-traps and the like in accordance with EU directives on Unpleasant Devices for Guest Control in Leisure Facilities.
---
Mondays
TREASURE HUNT. Find the computer screws.
Approximate duration 12 hours, or longer if dark.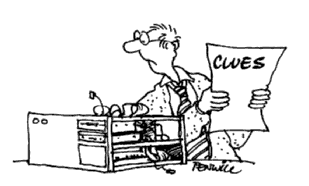 A real silver-effect plastic cup, a hand-tooled certificate in fine biro script and a wet F.O.O.M. tee-shirt will be emailled to the winner.
Tuesdays
FEAST OF THE PIXELS. Colourful, low-resolution, on-screen parade. Celebrating 1000 years of computing.
Come along and click your mouse as you join in the singalong* fun.
*only with Brainzapper Model EEARGH000 128-bit sound cards or compatibles.
Wednesdays
Ongoing visits to serial ports.
(Packed lunch available)
Thursdays
ORGANISED COMPUTER GAMES.
Game 1: Throwing the bubblejet cartridge.
Game 2: Flip the dipswitch.
Game 3: Blindfolded SIMMS installation.
Game 4: Computer swivel chair race.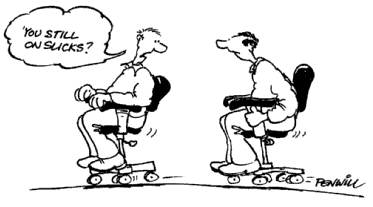 (Afternoon free for guests to amuse themselves)
Fridays
MOST-STATIC-ELECTRICITY CONTEST.
Points awarded for:-
most static generated by one person;
most equipment ruined by single personís static;
greatest static range .
(Current record: across 3 workstations, corridor and tea-urn.)
Saturdays
MAC users versus PC users COMPUTER BRAGGING COMPETITION.
Please bring own wellies.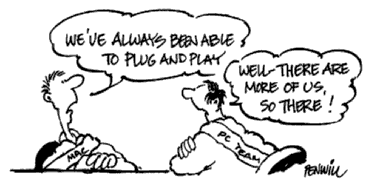 Portable computers must have battery and own user attached.
Sundays
MOST COLOURFUL COMPUTER COMPETITION.
Beige or black only please.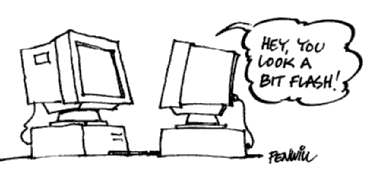 Followed by virtual campfire singalong in the laundry.(Outside if wet).
---









All this stuff is copyright © Roger Penwill 2000 and all mistakes are his. All rights reserved. No reproduction without permission.
email:roger@penwill.com
---